Carly Fitzpatrick is shortlisted for the 2017 ASAP Serviced Apartment Industry Awards
We are delighted to announce that our Managing Director, Carly Fitzpatrick has been shortlisted as for the Serviced Apartment Rising Star of the Year Award in the 2017 ASAP Serviced Apartment Industry Awards.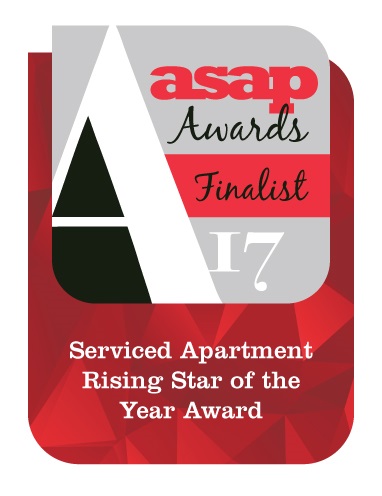 This award gives recognition to young professionals who have demonstrated enterprise, innovation and entrepreneurial flair in running a serviced apartment business.
Carly conceived Portfolio Apartments following a number of disastrous secondment experiences whilst working in finance in her previous career. Fed up of living out of cramped, yet pricey hotel rooms Carly saw the need for well-located business accommodation which felt just like home, launching her successful range of serviced apartments in November 2015.
She envisaged somewhere she could store some milk, make a decent cup of coffee and even prepare and serve a meal with friends if the occasion arose. Somewhere she could wash and dry her clothes, and get to that meeting looking the part. But most importantly somewhere she could come home to at the end of the day, watch a movie and climb into a comfortable bed with clean, fresh bed linen.
Today Portfolio Apartments is a flourishing business providing top quality serviced apartments across Hertfordshire, located in Hatfield, Stevenage and Welwyn Garden City. Carly has demonstrated a true passion for business by providing a level of quality and service that is second to none. We are really proud to see Carly recognised by the Association of Serviced Apartment Providers (ASAP) in their shortlist and humbled to see success of Portfolio in the region.
ASAP are a not for profit trade body offering membership and accreditation to owners, operators and agents of serviced apartments throughout the world. They encourage best practice throughout the sector and help to maintain safety and standards and ensure customer confidence. Now in their 5th year the ASAP Serviced Apartment Industry Awards recognise excellence throughout the industry. The presentation of the awards will take place on 7th December, after the ASAP Convention at the 2017 Gala Dinner in Bishopsgate, London.