If you are lucky enough to be spending some time in Hatfield you certainly won't find yourself short of things to do in the area. From stately homes, quirky museums, all the best places for some retail therapy or just some simple walks along the Lea Valley, we have picked out some of our favourites things to do in Hatfield.
Hatfield House
Home of the 7th Marquess and Marchioness of Salisbury, Hatfield House is one of the premier things to do in Hatfield.  This exquisite Jacobean House built in 1611 by Robert Cecil, but on a site dating back to 1489, has plenty to explore for everyone.  You can come back time and time again and discover something new each visit.  Hatfield House is only open over the summer season on Wednesdays to Sundays and during Bank Holidays, so do make sure you check out the Hatfield House website for the most up to date opening details.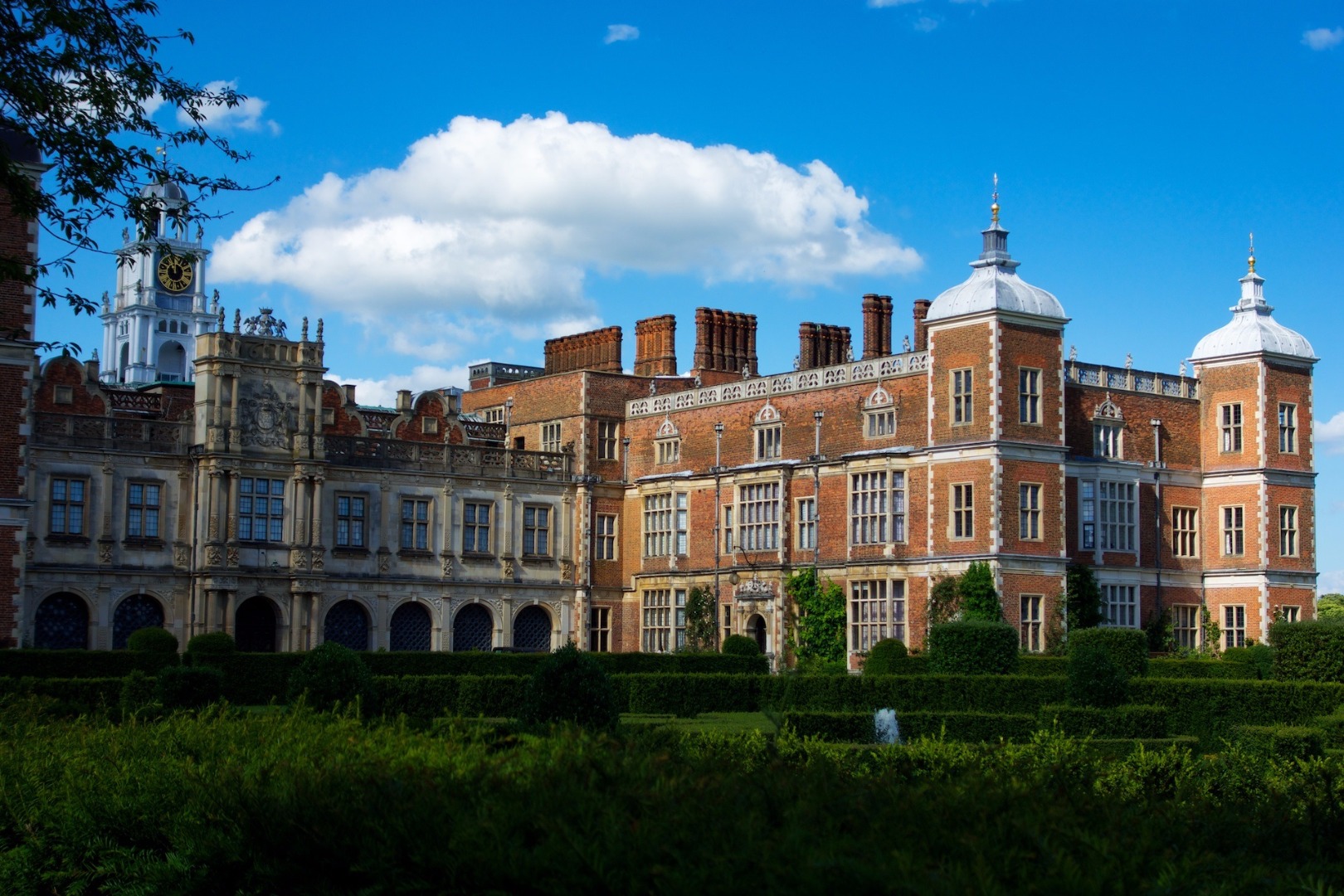 Photo by kind permission of Paul Hudson
In the house itself you can see sumptuous state rooms, a fascinating library and a working Victorian kitchen which will all keep visitors of all ages occupied.  Don't miss out on:
The Marble Hall
The Grand Staircase
The King James Drawing Room
The Chinese Bedroom
The Long Gallery
The Winter Dining Room
The Library
The Armoury
The Victorian Kitchen
The Old Palace
The numerous gardens are extensive with a host of features to enjoy as you pass by.  As the gardens are so large, we recommend visiting more than once and seeing different areas each visit.  The main areas include:
The Renaissance Garden with its magnificent, newly commissioned water sculpture
The West Garden is lovely and scented with a variety of shrubs, spring bulbs, herbaceous plants as well as roses and annuals
The Sundial Garden – another newly commissioned area to mark the 400th anniversary of Hatfield House, it is best seen in July when the delphiniums and irises are flowering
The East Garden is formally planted with beds and topiary and is open to the public one day a week (Wednesdays) during the opening season.  There is also a maze, which is not open to the public
The Old Palace Garden, another formal garden on the East side of the 'Old Palace' the garden also has a mini maze and box hedging
The Woodland Garden, a beautiful woodland walk with bluebells, magnolias, flowering blossom trees as well as rhododendrons and hydrangeas. 
Events at Hatfield House
Each summer Hatfield House also have a busy events schedule. From concerts and outdoor theatre productions, to farmers markets and other fun activities, you will find plenty of interesting things to do in Hatfield House!
Hatfield Park Farm
On the western side of Hatfield House you will find Hatfield Park Farm, where you can make friends with a wide range of well looked after farm animals.  There are feeding stations throughout the farm which means you can really get to see all your favourite animals close up.  As well as the animals there are sandpits and tractor tyres and a play area to keep little ones occupied.  Definitely one of the fun things to do in Hatfield for children and animal lovers!
Mill Green Museum
Just to the northeast of Hatfield is the tiny village of Mill Green where, tucked away, but well sign posted, you will find the wonderful Mill Green Museum.  Home to an eighteenth century working watermill, the museum is ideal for young and old alike.  You will find all their staff friendly and knowledgeable and we recommend going when the mill is working so you can see the miller in action.  You then get the opportunity to buy the flour you have seen being made! 
The Mill Green Museum also has bread making workshops, so do visit their website for further details.  If you want to take your own picnic there is a beautiful little garden where you can sit, alternatively you can buy refreshments such as hot and cold drinks, biscuits and flapjacks, in the museum shop.  They also serve a rather delicious cream tea on Sundays between 2.30pm and 4.30pm which we highly recommend!
Adjacent to the museum you will find the Mill Green Jubilee Garden which has the same opening times as the museum.  It is a wonderful knot garden built to commemorate the Queen Elizabeth II's Golden Jubilee and well worth a visit.
Hatfield Galleria
If you are a bit of a shopper and you are after a bargain, then head for Hatfield Galleria.  Packed full of outlet shops and tasty food outlets you are sure to have a great time.  In fact there is so much to look at we recommend checking out the Hatfield Galleria Offers page before your visit, to make sure you don't miss out on all the best buys! If you are looking for entertainment, there is a nine screen Odeon cinema on the top floor of the Galleria which has all the latest films in 2-D and 3-D formats.
If you have young children and you are looking for things to do in Hatfield Galleria to keep them entertained, then head to 'Get Wild'.  The kids get to play for an hour on a great jungle themed play area, while you look on with some well-earned refreshments! 
Hatfield Galleria is also home to a host of popular restaurants.  Whether you are just after a break and a coffee, or a special meal, you are sure to find something to suit your needs.
The River Lea
Winding its way between Hatfield and Welwyn Garden City you will find the gently meandering River Lea.  Originating in the Chilterns and flowing through the Lea Valley it joins the River Thames at Bow Creek just to the East of Canary Wharf and the Isle of Dogs.  If you are looking for outdoor things to do in Hatfield you will find many beautiful areas to walk along the River Lea and plenty of cycle routes around as well!
We recommend walking the section of the river from Lemsford Mill to Mill Green which is a three mile stretch and should take you just over an hour.  You will get to see Lemsford Mill, the Stanborough Lakes and Mill Green with its working watermill.  If you wish to go a bit further you can always carry on to Hatfield Park by taking the blue walk (60 minutes) or red walk (90 minutes) through the grounds in Hatfield Park, but you will have to pay an admission fee for the park.
Ellenbrook Fields and the Hatfield Aerodrome Heritage Trail
On the western side of Hatfield you will find Ellenbrook Fields which was formerly the Hatfield Aerodrome and definitely worth a visit if you are interested in aviation, British wildlife, or just fancy a pleasant walk.  Home to the de Havilland Aircraft Company and the old aerodrome you can now follow the Hatfield Aerodrome Heritage Trail.  There are two alternative routes; the longer version is around 4km and the shorter one around 3km.  They take an hour and a half, or an hour respectively. Along the way there are a number of information boards so you can brush up on your aviation history and find out all about the aerodrome and it's past.  Birdwatchers should look out for sky larks, meadow pipits, and barn owls.  If you are lucky you might even get to see a brown hare!
If you are looking for somewhere to park we recommend visiting the Notcutt Garden Centre where you can park for free and also get some refreshments after your walk!  You can also drop by the University of Hertfordshire de Havilland Campus where you can pick up a leaflet at their reception area.
Hatfield Swim Centre and Hatfield Leisure Centre
If sport is your thing, then you will be spoilt for choice with both a swimming centre and leisure centre in Hatfield town centre.  The swim centre has a 33m pool with diving boards, teaching pool and wellbeing spa.  The leisure centre is home to a state of the art gym, a junior gym, badminton and squash courts, 3G football pitches, as well as other activities such as trampolining, exercise classes and table tennis, plus lots more to keep you fit and healthy.
If you are keen on running and you are new to the UK then you need to know about 'Parkrun'.  Parkruns are free, weekly, 5km timed runs around the UK and now around the world.  The nearest one to Hatfield is at Ellenbrook Fields and takes place every Saturday at 9.00am.  It is best to register on their site so you get your own barcode and then get a recorded time.  Parkrun is open to people of all abilities and is a great social event and a good way to meet like-minded people.
St Albans
If you are staying in Hatfield then you must also visit the cathedral city of St Albans just 5 miles away.  With its Roman history and medieval architecture there is plenty to see and do.  It is also home to a range of independent shops and St Albans restaurants, and is even famous for its ale houses, but don't take our word for it, check out Visit Britain's video . . .
Where to stay in Hatfield
If you are going to be staying in Hatfield for some time and need somewhere to stay, a Portfolio Serviced Apartment is a great choice.  Portfolio Serviced Apartments are a corporate accommodation provider specialising in providing luxury apartments for corporate and business.  With two locations in Hatfield, in either the Town Centre or Hatfield Business Park, you will be spoilt for choice and you have the advantage of great travel links.  The M25 is just a ten minute drive and you can be in Kings Cross / St Pancras Station in 33 minutes.  The Hatfield Galleria is just a one minute walk from our King George Apartments, Hatfield Business Park where you will find a great selection of shopping outlets and a great choice of restaurants.  Alternatively head over to St Albans for a host of independent shops and restaurants.
During your stay, let us take care of all the nitty gritty of your business or corporate stay.  We are experienced at taking care of a range of needs and requirements, so all you need to do is relax and enjoy the surroundings.
For all the latest information and news on Portfolio Serviced Apartments, follow us on Twitter and Instagram and like us on Facebook.  We look forward to welcoming you to Hatfield sometime soon!