Traditional English Afternoon Tea explained!
Plus, the best afternoon tea in Hertfordshire!
The origins of a traditional English afternoon tea are attributed to Anna Maria Stanhope, the seventh Duchess of Bedford who in 1840 was looking for an afternoon 'pick me up' to bridge the long gap between luncheon and dinner.  She took to taking a light snack around 4pm in her private rooms and started to invite her friends and other socialites.   In summer months 'afternoon tea' moved to an outdoor setting to take advantage of English gardens in their full glory.  This increased the popularity of this delightful way to spend the afternoon with an increasing number of men starting to participate as well.
Today the charming activity of afternoon tea has seen a huge revival and it is now served in many country houses, hotels and high end tea shops.  A modern twist has been to add champagne to afternoon tea, making it an even more special occasion.  If you are going for this option it is worth checking what is included, as some establishments offer just a single 125ml glass whilst others have a more generous 'bottomless glass'!
What to expect from a Traditional English Afternoon Tea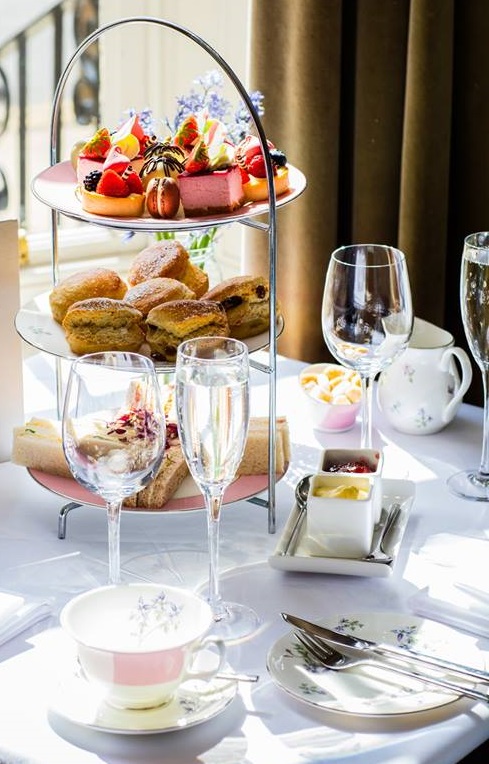 An English afternoon tea has always been a formal affair with some strict etiquette attached, but don't worry you won't be thrown out for doing the wrong thing!  You can however expect most traditional English afternoon teas to consist of the following:
A traditional afternoon tea is served at around 4pm at a proper table with a linen table cloths, linen napkins and pretty bone china.  This light meal is often served on a three tiered cake stand and the convention is to work your way up from the bottom level to the top.
A pot of loose-leaf tea, served in a china pot with a tea strainer.  Most establishments now offer a range of teas, but traditionally black tea blends such as afternoon tea, Earl Grey or Assam would have been served.
The first part of a traditional English afternoon tea consists of elegant finger sandwiches, usually long rectangles with the crusts cut off.  These are arranged in stacks on the lower tier of the cake stand.  The term 'finger' refers to the fact they can be eaten easily with your fingers, no forks necessary!
The middle tier of the cake stand usually has a selection of scones served with clotted cream and jam.  Scones should be broken in half rather than cut with a knife and of course if you are served Cornish clotted cream you should follow the convention of putting on the jam first followed by the cream.  When in Devon the reverse is observed with cream being applied first followed by Jam, but do feel free to follow whatever rules please you!
The top layer of the cake stand usually features a selection of dainty cakes and petit fours.  Never cup-cakes!  These are usually eaten last, on a plate with a cake fork rather than with your fingers.
Where to find the best afternoon tea in Hertfordshire
Hertfordshire's proximity to London means it has always been popular with nobility and the aristocracy.  Hertfordshire is home to a number of stately homes, manor houses and historic buildings, some of which now operate as hotels.  You really can't find a better place to find a great selection of traditional English afternoon teas on offer, so here are our top three!
Hanbury Manor is fabulous Jacobean country manor set in 200 acres of parklands in the picturesque town of Ware in Hertfordshire, and today is run by the Marriott hotel chain.  At Hanbury Manor afternoon tea is served in no less than four rooms throughout the hotel; the Zodiac, the Cocktail Bar, the Oak Hall and the Library.  Our personal favourite is the Oak Hall with its oak panelling, sumptuous chairs and open fireplaces which make it a truly wonderful place to enjoy this special meal.
Hanbury Manor Afternoon Tea prices:
Traditional Afternoon Tea - £30 per person. £35 on Sundays.
Champagne Afternoon Tea - £40 per person. £45 on Sundays.
Traditional Afternoon Tea with unlimited bubbles - £40 per person (Monday to Friday)
Sopwell House is a chic country house hotel complete with a spa in the historic cathedral city of St Albans.  It serves a sumptuous afternoon tea which can be taken in the restaurant, the cocktail lounge or the conservatory bar.  Their traditional afternoon tea comes with finger sandwiches, scones served with Devonshire clotted cream (so if you want to observe the correct etiquette make sure you add the cream first then the jam) followed by homemade pastries.
Sopwell House Afternoon Tea prices:
Traditional Afternoon Tea £25.95 per person, £29.95 per person at weekends
Champagne Afternoon Tea £35.95 per person, £39.95 per person at weekends
Pimm's Afternoon Tea £33.95, £37.95 per person at weekends
Formerly the Edgwarebury Hotel this Manor Hotel is now owned by Laura Ashley the world famous home furnishings company.  As such it has been beautifully refurbished using prints and designs that truly befit an English country home, and is really a lovely place to visit.  Afternoon tea is served in the exclusive AA Rosette Cavendish Restaurant which a relaxed, yet fine dining experience.
Laura Ashley – The Manor Elstree Afternoon Tea prices
The Manor Afternoon Tea - £24.95 per person
The Manor Prosecco Afternoon Tea - £32.95 per person
The Manor Champagne Afternoon Tea - £34.95 per person
Where to stay in Hertfordshire
If you are visiting or relocating to England for some time and you are looking for top quality accommodation, then a Portfolio Serviced Apartment is the perfect choice.  Our three locations throughout Hertfordshire make us the perfect place to explore the very best of England whilst still being in easy reach of London. 
We specialise in luxury corporate accommodation for even the most discerning guests.  We are experienced at taking care of a range of needs and requirements, so all you need to do is relax and enjoy the surroundings!
For all the latest information and news on Portfolio Serviced Apartments, follow us on Twitter and Instagram and like us on Facebook.  We look forward to welcoming you to Hertfordshire sometime soon!